Lam Sai Wing
One of the keenest Disciples of Wong Fei Hung was Lam Sai Wing, an industrious student who learned much from his Master before leaving his village to become a fight instructor to the military.
Lau Jaam
Meanwhile the boy who would become a great name in Martial Arts, Lau Jaam, was studying Choy Lee Fut with another Master and Kung Fu with his uncle, Lau Bou Sing, who belonged to the Short Bridge branch of Hung Kuen. At the age of 16, Lau Jaam followed his father to Hong Kong and became an apprentice at the Daai Sing Gold-Smith Shop on Queen's Road West for the princely sum of 50 cents a month. Lau quickly realised that he was not going to enjoy a good standard of living for a long time. It would take him nearly three months to save up for a blanket!
A new teacher
Six months into his apprenticeship, Lau heard that Lam Sai Wing was now teaching at a gym in String Lane, close to Bamboo Hillside. Lau Jaam decided to go and judge for himself the skill of a man who had learned from the great Master. Night after night Lau stood at the back of the class, watching Lam Sai Wing and refusing to leave until someone chased him away. When eventually Lam noticed him he laughed at how the young man was concentrating so hard on the students, following their every move with his eyes. The students themselves were not concentrating as much as young Lau!
Lam called Lau over and asked why he came, night after night, just to watch. Lau replied that he had learned Kung Fu in the past but what he was seeing here was totally different – and would Lam teach him? Lam said he would, but on the same terms as everyone else: three dollars a month. Lau was crestfallen, and explained that this was the equivalent of six months' of his wages. Lam looked at the young man and felt sad for him. Eventually he said, "I live on my own, with no-one to help me with household tasks, such as washing and cleaning. If I teach you free of charge, will you undertake these jobs for me?" Lau nearly leapt for joy, and asked how soon he could come back to take part in the Baai Si ceremony that would affirm them as Master and Disciple. Lam told him to return the next evening.
Starting again
Lau raced home and packed his suitcase. The next evening he took 15 cents from his purse and used 5 cents to buy joss sticks, candle sticks and a Yuan Bao (an origami gold nugget, which symbolises wealth, fortune and success). He folded his remaining 10 cents into a red envelope, as his Baai Si gift.
When Lau arrived at Lam Sai Wing's gym he entered the hall, lit he joss sticks and candles beneath the White Crane Ancestor's shrine and bowed down in worship. He then carried a seat over for Lam Sai Wing, bowed to him and offered him the red envelope, calling Lam his "Sifu" (Master) several times. With this, Lam accepted Lau as his Disciple.
Lam then asked Lau to demonstrate the moves that he already knew, so that he could evaluate him and see what his weak points were. Lau was initially excited and eager to show off. But within a few moments it dawned on him that he could not even hope to impress his new teacher, as his knowledge was so small by comparison. Far better, he felt, to forget any Martial Arts that he had learned before and focus instead on what his new Sifu could teach him. He needed to start again, right from the beginning.
The lessons started the next day. Lam was a tough teacher, but Lau never complained, or said he was tired. He studied and practiced diligently and in just a few days he had learned 108 of the techniques in the Taming the Tiger Set (Fuk Fu Kyun).
Lam Sai Wing believed that it was vital to practice hard until the skills became second nature and you could appreciate the hidden subtleties of each. He therefore ordered Lau to continue practicing the Fuk Fu Kyun for the time being, and would not teach him anything else. But Lau knew that some of Lam's other students were already learning other things.
Hungry for more
One of the students, Sou Gim Sang, was receiving instruction in the Tiger Crane Double Style (Fu Hok Seung Ying Kyun) from another trainer called Jeung Yun, at the request of Lam Sai Wing. Lau knew that as a Sihing (a trainer who is not your Sifu) Jeung Yun was highly skilled in this Set, and he begged Jeung Yun to teach him too. Jeung Yun refused at first, saying it would cause offense if Lau went behind his Sifu's back. Lau eventually convinced the Sihing that it would be acceptable as long as he was taught away from the gym.
Jeung Yun eventually gave in and taught Lau, and within a few days he had completed another Set in his training. Lau Jaam continued his training and as the years passed, and his experience increased, he became a well known and greatly respected Master of Martial Arts in Canton. He also had many legendary escapades with his Kung Fu, including one time when a fight broke out in the Sheung Wan Fish Market and Lau Jaam and two others ended up fighting 60 people. Lau Jaam realised a weapon would give him an advantage, so he snatched up a bamboo pole and hit it against a wall to splinter one end. He then used the broken end of the pole like a knife, stabbing and slashing and cutting many of his attackers.
Passing the gift
Lau Kar Leung, Lau Jaam's son, Lau Kar Leung, was born on 28 July 1934. When Lau Kar Leung was seven years old, his father decided he was old enough to learn the skills that had give the family its reputation and living, and so his lessons began.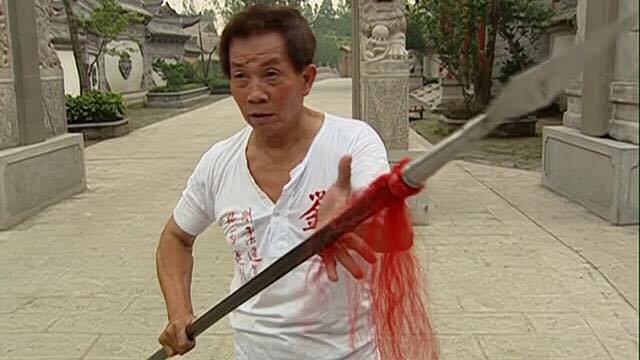 After time the family moved to Hong Kong, and Lau Jaam continued with his teaching and Lau Kar Leung continue with his studies. As the years passed, the younger Lau believed that his path was set, and he would teach Kung Fu alongside his father in the fullness of time.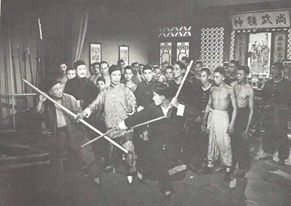 A taste of the movies
Many of Lau Jaam's friends were Cantonese opera singers who moved in exciting circles, with film and theatre people. One day, out of the blue, one of these friends suggested to Lau Jaam that get involved with movies as they were always looking for Martial Arts specialists for the fight scenes required by the storyline. Lau Jaam asked his now 15 year old son if he would like to join him on a film set. Lau Kar Leung said yes, and together they spent two days as bit actors in a movie starring Yu Jie (who was a child actor at the time) and directed by Ku Wen Zhong. Young Lau found it an enjoyable experience, but also frustrating because of the long wait between takes. Wong Fei Hung series During the early 1940s many of the Kung Fu scenes depicted in Hong Kong films lacked credibility, according to the real-life practitioners of the Arts. Eventually several of the Kung Fu schools collaborated with a film company to produce a black and white TV serial based on Wong Fei Hung. The directors made the decision to use Kung Fu experts in the main roles (rather than actors) for authenticity, and both Lau Jaam and Lau Kar Leung found themselves on the cast list – with Lau Jaam playing his former Sifu, Lam Sai Wing. The Wong Fei Hung series was a fertile movie training ground for Lau Kar Leung, and he was involved with the show for more than 70 episodes. On the set he met and became friends with Tong Kai, who was setting some of the action scenes, and together they developed the very new craft of action choreography. Lau Kar Leung and Tong Kai worked on many movies during the 1960s and set new standards in the industry. For example, they eventually persuaded action directors that to make a fight appear realistic the actor's reaction to a blow was as important as the blow itself. In 1975 Lau Kar Leung made his début as a Director for the Shaw Brothers Studio with a Kung Fu comedy called The Spiritual Boxer. He continued directing films for the Shaw Brothers until, after the Martial Arts of Shaolin (1986), the studio closed its film production arm to concentrate on its new television channel, TVB. Lau Kar Leung continued to direct and choreograph films through the 90s and into the Millennium. In Drunken Master 2 (1994), which he co-directed with Jackie Chan, Lau Kar Leung drew on his father's real-life fight in the Sheung Wan Fish Market to create the memorable Tea House Scene in which Jackie, playing a young Wong Fei Hung, fends off his attackers with the smashed end of a bamboo pole. The combination of Lau's traditional skills and film fighting experience meant that he was able to look at Martial Arts in a different way to other Masters. Over time, he used his broader background to introduce new elements to the Hung Gar Kung Fu style that became his legacy.
Mark Houghton
In 1989, a 27 year old English man named Mark Houghton moved to Hong Kong to study under his Martial Arts hero, Lau Kar Leung. Lau could see that the tall blond fighter could provide some welcome variety in the movies he was making and started using Mark in his films. Thanks to his Sifu Lau Kar Leung's expert teaching and pastoral care, Mark became one of the best known Western bad guys in Hong Kong Martial Arts movies – the industry's famous 'White Tiger'. In 2000, having worked on more than 60 films as an actor, stuntman and stunt fight coordinator, Mark retired from film-making with a variety of stunt-related injuries. Lau Kar Leung considered Mark Houghton his most devoted student. When Mark said that he wanted to now teach Kung Fu, Lau Kar Leung asked him to take the family torch and instruct students in the art of Hung Keun.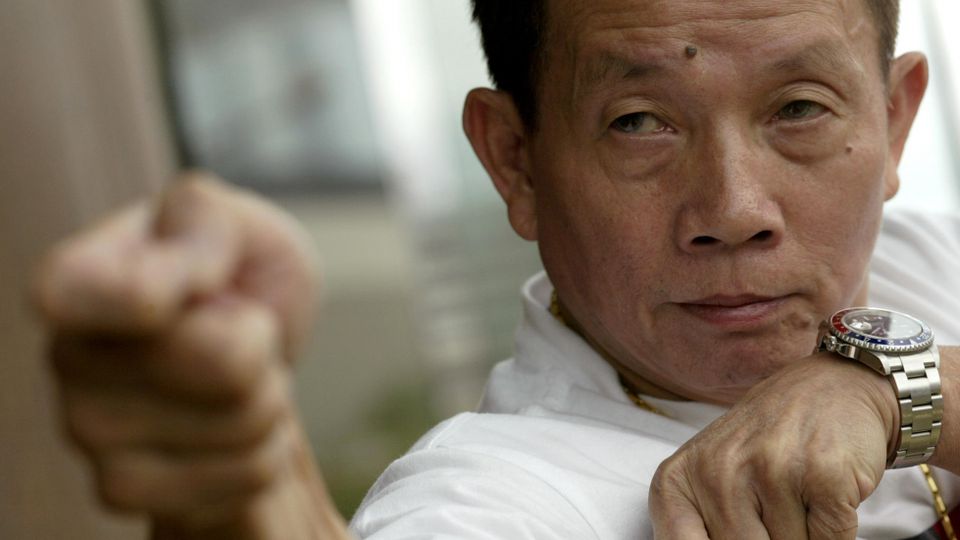 A new teacher
In the summer of 2005, with the blessing of his Master Lau Kar Leung, Mark opened the Lau Family Hung Keun School in Fanling, Hong Kong. Lau Kar Leung died in 2013 but his legacy lives on thanks to his Disciple's efforts. There are now dedicated Hung Keun schools in Hong Kong, China, Singapore, England, France and Austria.